Airmid Therapies
We (Anne-Marie, Gavin, Clare and Jacqui) offer a range of complementary therapies in Newry and surrounding areas with a professional and individualized approach for your well-being and comfort. Treatments offered include: General Foot Reflexology, Nerve Reflexology for Pain Management, Aromatherapy Massage, Reiki, Indian Head Massage, Deep Tissue Massage, Seichim, Natural Facial Lift Massage, Pregnancy Massage, Fertility Reflexology, Maternity Reflexology and Facial Reflexology, Kinetic Chain Release (KCR) and Connective Tissue Release (CTR), Hot Stone Massage, Nutrition and Lifestyle Coaching and treatments for cancer care.
Whether you are experiencing pain, illness or just want to pamper yourself, Airmid Therapies is here for you. For a professional, quality and relaxed treatment for you, a loved one or a friend, contact us today. Gift vouchers are available contact us to order or order using the button below.
Blog Airmid Therapies blog is all about health and well-being. To read more, visit our blog here.
Visit our YouTube channel for self-help videos and more about our treatments and therapists.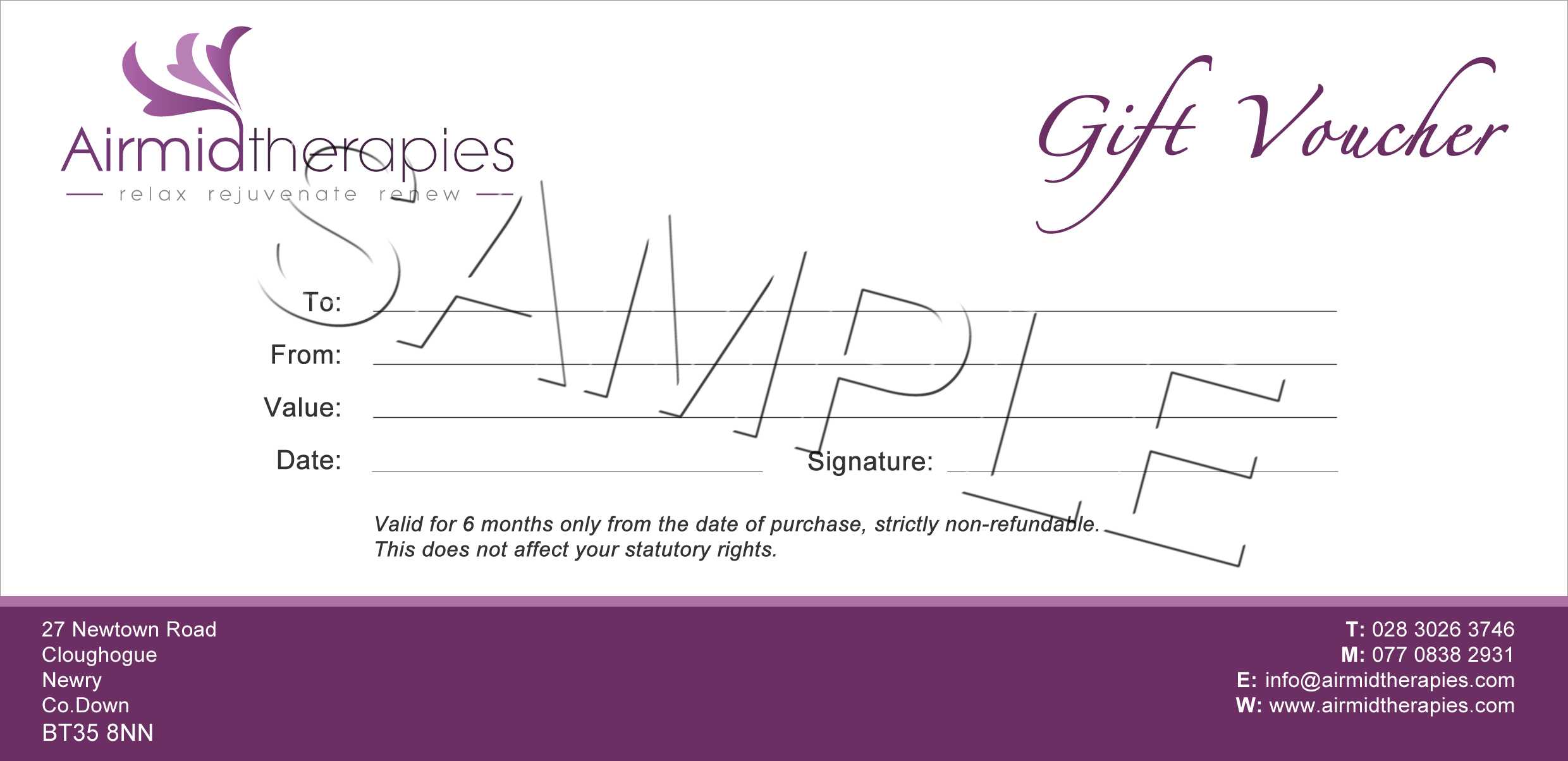 AIRMID THERAPIES TREATMENTS
**Update** - Following the N.I Executive announcement today (15th April). We will reopen 23rd April. Online bookings are **open**
Please note, you will be asked to enter your card details for contactless payment when you book online. As usual, payment will be taken **after** your appointment and we still accept cash.
We Wish You All Health
Team Airmid
As with all our treatments, a full consultation will be completed in the strictest of confidence to ensure that the treatment is suitable for you.
Online Booking
You can book your treatments online here
Treatments
Have you ever experienced any struggle while making payment with your credit card to buy kratom online? Well, the problem is solved now. Kay Botanicals offers Paypal payment for its customers. Now, you can buy Kratom using Paypal which makes your payment easy and faster. Some users even opt out of the purchase process in the last minute when they can't find a payment option on that case Paypal would really help in making their transaction done.
New Treatment - ScarWork
With ScarWork, scars and adhesions can be softened and reintegrated, which improves integrity of the fascia, improves aligment and reduce pain and discomfort.
more details
Airmid Escentuals Aromatherapy Products
Sale now on
We have our own range of hand made aromatherapy products including: luxury soy wax candles and melts/tarts and diffusers (all enriched with essential oils) and a range of Himalayan salt products. Visit our online shop: Airmid Escentuals Shop
more details
Fertility Podcasts
more details