Pregnancy Massage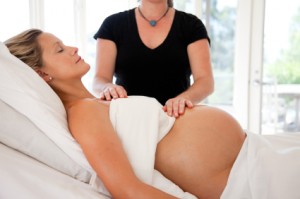 Gentle massage is used to relax the Mother-to-be and a relaxed Mum increases the chances of a relaxed baby!
Pregnancy is a wonderful natural part of life but it can sometimes take a toll on your body, especially in the third trimester. Regular massages can ease some of the discomfort you may have and keep you calm and relaxed.
What is involved in a pregnancy massage treatment?
A consultation is required at your first treatment; this ensures massage is right for you and your baby. Typically, a full body massage lasts 45 minutes to an hour and includes, back, shoulders, neck, head, legs, feet, 'the bump', arms and hands. Every treatment is tailored to the recipient's needs and areas of the body can be omitted. During the treatment towels are used to ensure your modesty. Oils which are safe to use while pregnant are used to help nourish the skin, help stretch marks and allow a smooth continuous flowing movement.
Pregnancy massage can be preformed with the Mother-to-be in a number of positions (lying down, seated, on a custom made couch). This massage is carried out in a seated position with towels used for support. This position is very comfortable for both Mother and baby.
What are the benefits of pregnancy massage?
Most conditions, which affect the mother during pregnancy, can also affect her when she is not pregnant, for example: backache, constipation and fatigue etc. These conditions are sometimes made worst by pregnancy because of a number of things including, change in hormones, change in posture etc.
Pregnancy Massage may help many aliments including the sample list below:
Ease backache
Improves digestion and constipation
Insomnia improved and fatigue lessened
Leg and foot cramps
Reduce stress and anxiety and gives a feeling of calmness
Lessen the appearance of stretch marks
Eases the effects postnatal depression
Especially good for promoting deep relaxation and a feeling of well-being
Assists in alleviating fatigue both physical and mental
Helps to improve condition, colour and tone of the skin - due to increases in blood supply
Eases joints and improves such conditions as arthritis and rheumatic disorders therefore improving mobility
Reduces overall stress and has a soothing and relaxing effect both psychologically and physically
Price: Pregnancy Massage
1 hour half or full body massage including face and head £50.00
A 1 hour pregnancy combo is also available - 30 minutes of back, neck and shoulder massage and 30 minutes of maternity reflexology £50.00
Cream and Oil Blends
As a qualified Aromatherapist, creams and oil blends can be made up to order to help a number of pregnancy related issues including; stretch marks, pregnancy rashes, dry skin, hypertension etc. Contact us for more information.
Note: Massage is not a substitute for medical treatment nor is it a diagnostic system. Always consult a GP or other health professional for medical attention and advice.
Our Location

27 Newtown Road,
Cloughogue,
Newry,
Co. Down
BT35 8NN
N. Ireland
Testimonials
"I've had Reflexology with Anne-Marie before. Thought I'd try Reiki and so I got a combo treatment of both. It was amazing, another level of relaxation. Plus they are a great way to try other treatm..."
Sitemap