Kinetic Chain Release (KCR)
Kinetic Chain Release (Kcr)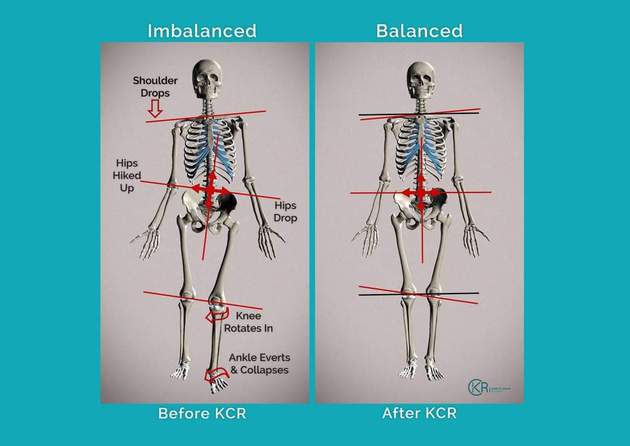 KCR is a series of gentle stretches, carefully crafted to quickly smoothly and often sensationally bring about postural changes that will correct the body's imbalances in young and old alike and eliminate many physical issues in the process.
Anne-Marie carried out her KCR training in Scotland in 2015 and was the first KCR practitioner in Ireland to receive this training, closely followed by her brother Gavin. Since then Anne-Marie has invited the KCR teachers over to Ireland a number of times to teach others this excellent protocol.
Anne-Marie has won awards for her work with KCR including the Foundation Builder Award and Leading the Way in "Gold-Standard Care" monitored by Focus on Therapeutic Outcomes Inc (FOTO).
Together Anne-Marie and Gavin work with clients in pain using KCR to help bring them back into balance.
KINETIC CHAIN RELEASE (KCR)
What is Kinetic Chain Release?
Kinetic Chain Release is a simple yet extremely effective system of mobilizations and stretches, developed by Scottish Physiotherapist Hugh Gilbert, that brings the physical body back into balance quickly and easily.
What are the benefits of KCR?
KCR frequently providing a high degree of relief and even instant resolution in many cases from the pain and discomfort caused by conditions such as:
Chronic Back Pain, Fibromyalgia, Carpal Tunnel Syndrome;
Chronic Fatigue Syndrome, Irritable Bowel Syndrome, Migraine Headaches;
Scoliosis, Teeth Clenching/grinding, Snoring/Sleep Apnoea, Bloating;
Tennis (golfer's) Elbow, Behavioural Disorders in Children, Weak (frequently sprained) Ankles;
Chronic Knee Problems, Breathing difficulty, Chronic neck pain, Plantar Fasciitis, Chronic Stress;
Menstrual Pain, Tired Shoulders, recurrent hamstring issues, recurrent groin strain, Tight Calves;
Insomnia, Wrist pain and weakness, Post Traumatic Stress Disorder (PTSD) and more.
This simple procedure is revolutionising physical rehabilitation globally, often achieving complete and lasting results in one treatment in many people where all other forms of intervention had proven unsuccessful.
Also if you are an athlete, on any level, desiring Improved Performance then the balancing effect of KCR on your body will provide GUARANTEED improvement!
What is involved in a KCR treatment?
A consultation is required at your first treatment; this ensures KCR is right for you. The recipient remains fully clothed at all times, apart from removing your socks and shoes. The therapist applies pressure and gentle stretches to different parts of the body and will ask you to changes positions during the session e.g. on your back, your stomach, your side, sit up in a seated position etc. A KCR session lasts approximately 45 minutes and treats the whole person rather than specific symptoms.
To find out more visit www.kineticchainrelease.com and Kinetic Chain Release video on YouTube
Price: For a 1 Hour treatment of KCR £50.00
For 1 hour 30 minute KCR and Connective Tissue Release (CTR) or Massage £75.00
Note: Kinetic Chain Release is not a substitute for medical treatment nor is it a diagnostic system. Always consult a GP or other health professional for medical attention and advice.
Our Location

27 Newtown Road,
Cloughogue,
Newry,
Co. Down
BT35 8NN
N. Ireland
Testimonials
"I've had Reflexology with Anne-Marie before. Thought I'd try Reiki and so I got a combo treatment of both. It was amazing, another level of relaxation. Plus they are a great way to try other treatm..."
Sitemap