Nerve Reflexology for Pain Management
Nerve Reflexology For Pain Management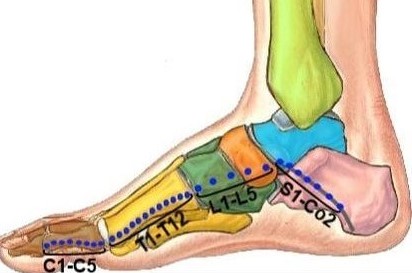 Nerve Reflexology is an advanced reflexology training that uses a very precise pressure application and direction on the foot bones to affect the physiology of the nervous system.
This is a treatment concept using manual pressure on nerve reflex points on the bones of the feet in combination with other methods like classic foot reflexology. We work clinically with clients who require support in managing their pain.
Chronic pain is a pathology where different body regions, the central nervous system and emotions are involved and we, as Nerve Reflexologists, use an holistic approach and a total integrative treatment plan to support clients.
Nerve Reflexology is used to treat the nerves and their pathways of the body which innervate our muscles, organs, glands, blood and Lymph supply. Nerve Reflexology is an advanced reflexology training that uses a very precise pressure application and direction on the foot bones to affect the physiology of the nervous system.
Chemotherapy Induced Peripheral Neuropathy (CIPN) - this is another element to nerve reflexology but is a more gentle form of reflexology which works on the nerve reflexes to help reduce nerve pain caused by side-affects of chemotherapy. It is a relaxing treatment but is a very focused reflexology treatment giving much needed relief.
What is involved in a Nerve Reflexology treatment?
A extensive consultation is required at your first treatment; this ensures Nerve Reflexology is right for you. As this is a treatment specifically for pain, a detailed consultation around your pain and how it is affecting you is required and may take up to 30 minutes to complete. The more information we have the better we are able to tailor the treatment to your pain conditions. As well as the consultation, a general reflexology treatment is given on your first treatment. Nerve Reflexology treatment will begin on your second session. This allows us to research your condition(s) and work out a treatment plan specific to you.
The recipient lies on a couch or in a reclining chair. As it's just the feet that are worked on, you remain fully clothed at all times, apart from removing your socks and shoes. The therapist applies pressure using thumb techniques in particular directions on very specific points on the bones of the feet (nerve points). Some of the points used in Nerve Reflexology can be tender and client participation is required during this type of treatment e.g. You will be asked if points are tender and how long for. A Reflexology session lasts approximately 1 hour and treats the whole person rather than specific symptoms.
What are the benefits of Reflexology?
Nerve Reflexology looks at nerve, muscle and organs in the body including area of cervical, thoracic, lumbar, and chronic pelvic pain, shoulder, arm and diaphragm pain and cranial nerves.
Nerve Reflexology covers:
Neurology and clinical neurophysiology of the central and peripheral nervous system

Physiology and pathophysiology of pain

Clinical reasoning and treatment planning in a holistic pain concept

Clinical assessment

Nerve Reflexology for the innervation of the

Spine and soft tissues

Peripheral nerves

Autonomic nervous system

Neuro-endocrine system
The training Anne-Marie has undertaken was with Dr Carol Samuel. It merges Carol's own research evidence, culminating in the world's first and only PhD in reflexology and pain management, and her work with MNT-NR International in Nerve Reflexology. Anne-Marie is one of 5 practitioners in the Ireland who is a Qualified Nerve Reflexologist.
Nerve Reflexology originated in Germany through the work of Walter and Ellen Froneberg, but has been further developed by the team of professionals at MNT-NR International including Nico Pauly, Griet Rondel and Norbert Gosh.
Price: For a 1 hour treatment of Nerve Reflexology £45.00
Note: Nerve Reflexology is not a medical therapy but may help restore or recover dysfunction in the movement, organ and nervous systems through good clinical practice.
Our Location

27 Newtown Road,
Cloughogue,
Newry,
Co. Down
BT35 8NN
N. Ireland
Testimonials
"I've had Reflexology with Anne-Marie before. Thought I'd try Reiki and so I got a combo treatment of both. It was amazing, another level of relaxation. Plus they are a great way to try other treatm..."
Sitemap