Fertility Reflexology (Reproflexology)
Fertility Reflexology (Reproflexology)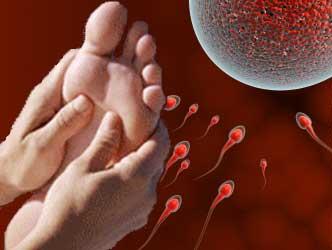 Fertility reflexology is a very relaxing treatment which uses the non-invasive techniques of reflexology to help balance and prepare your body holistically for pregnancy. When the body is balanced, the natural flow for fertility processes may begin. Fertility reflexology can be carried out on both men and women and used along side natural or assisted conception.
Therapists at Airmid Therapies are members of The Association of Reproductive Reflexologists (ARR) and have been trained to the highest level of fertility reflexology using the Barbara Scott Method of Seren Natural Fertility called 'Reproflexology'. It is the study and natural treatment of male and female reproductive and fertility conditions using reflexology. It is a specialist therapy that has been pioneered and carefully developed by Barbara Scott for over 20 years. The therapy can be applied either as a stand-alone treatment to support natural conception or alongside fertility treatment such as IUI and IVF.
Infertility is on the increase and statistics show issues are 1/3 female, 1/3 male and 1/3 unexplained. There are many reasons for infertility, which include stress, over worked, dietary habits, being over/under weight and emotional/psychological reasons, not enough sleep and environmental issues etc.
We treat women and men at any stage in their fertility planning, whether they are enhancing their general health and well-being before trying for a baby, experiencing problems with conception or require help and guidance during pregnancy. Every client is treated as an individual and a treatment plan is drawn up depending on what each couple requires.
What are the Benefits of Reproflexology?
Fertility reflexology is a very relaxing natural treatment which uses the non-invasive techniques of reflexology to help balance and prepare your body holistically for pregnancy. When the body is balanced, the natural flow for fertility processes may begin. On a physical level reproflexology can help many medical conditions which can affect fertility, including PMS, PCOS, endometriosis, ovarian cysts, low sperm count etc. It can also be excellent at reducing levels of stress and anxiety. Psychologically, reproflexology can also help address the complex mental and emotional factors which may be affecting your fertility.
Reproflexology for Natural Conception
Different protocols are used depending on the week of your cycle and/or fertility issues arising in both men and women. Reproflexology can be of massive benefit when it comes to fertility as it can:
Regulate the menstrual cycle
Balancing the endocrine (hormone) system
Encourage and stimulate ovulation
Provide relief from symptoms including PMS, PCOS, endometriosis, ovarian cysts etc.
Support implantation
Improve sperm count, motility and general sperm/egg quality
Promote deep relaxation
Reduce stress and tension
Bring about balance to all the body systems
Provide emotional support
General preparation for pregnancy
Reproflexology for Assisted Conception - IUI, IVF etc.
Reproductive Reflexologists are trained in protocols to complement and enhance the efficacy of conventional medications. Using reproflexology, side-effects of medication can be reduced and the effectiveness of the drugs can be enhanced. As everyone is unique, we ask for a copy of your assisted conception schedule (which your clinic provides). This allows us to design the best treatment plan to help and support you during the different stages of assisted conception:
Down-regulation
Stimulation
Implantation
Balance and support the body through IUI or IVF cycles
Provide emotional support, especially during the two week wait
What is involved in a Reproflexology treatment?
Once a client has made contact with us for fertility reflexology, an email is sent with a pre-conceptual questionnaire and clients are asked to return this in advance of their first appointment (initial consultation). If any tests have been carried out, we'd like a copy of these so we can analyse them, so be prepared to ask your GP/consultant/clinic for these. This allows us to plan a programme specific to you and your needs. It is best to see both partners together at the initial consultation (we understand this isn't always possible), as it gives us a fuller picture of your potential fertility issues straightaway, saving valuable time.
At the initial consultation, we go through the pre-conceptual questionnaire and ask more in depth questions regarding gynaecological history and discussing any medical tests you have had and the results. We also discuss lifestyle (sleep, diet, exercise, addictions etc.) as well as medical issues or concerns. A short repro-assessment is carried out at the first assessment which is carried out on the feet on both men and women. A treatment plan is then set out.
After the initial consultation, reproflexology treatments are carried out, either weekly or fortnightly depending on what issues there are. The client lies on a couch or in a reclining chair. As it's just the feet that are worked on, you remain fully clothed at all times, apart from removing your socks and shoes. The therapist applies pressure to the feet using specific thumb, finger and hand techniques.
Specific reproflexology protocols are used depending on the fertility issues and where you are in your cycle. A reproflexology session lasts approximately 1 hour, including information gathering at the start of each session. Usually a woman is treated weekly throughout one entire menstrual cycle and then re-evaluate and assess progress. Men are treated weekly for eight weeks and we usually request a new semen analysis test to evaluate progress.
Airmid Therapies is now working with Lewis Fertility Testing (the UK leader in this field) to test sperm for DNA damage using the Sperm Comet DNA test, which may be affecting your ability to conceive and increase the chance of miscarriages. This can be discussed further at your initial consultation.
Price:
1 hour treatment of Fertility Reflexology £45.00
The initial fertility consultation can be carried out either in person or by online/virtual appointment.
Note:
Reflexology is not a substitute for medical treatment nor is it a diagnostic system. Always consult a GP or other health professional for medical attention and advice.
Our Location

27 Newtown Road,
Cloughogue,
Newry,
Co. Down
BT35 8NN
N. Ireland
Testimonials
"I've had Reflexology with Anne-Marie before. Thought I'd try Reiki and so I got a combo treatment of both. It was amazing, another level of relaxation. Plus they are a great way to try other treatm..."
Sitemap