Reflexology (General, Fertility & Maternity)
Reflexology (General, Fertility & Maternity)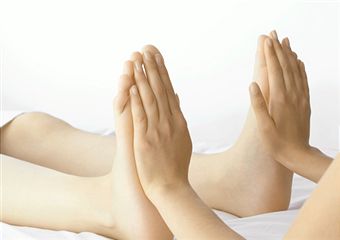 Reflexology is a science that teaches that every gland, organ and part of the body is reflected in the feet, hands and face and that by working on these areas, balance is restored to the body. It balances body systems, relaxes tension, improves blood supply and brings about relaxation.
REFLEXOLOGY
Reflexology is a method for activating the healing powers of the body. The early Chinese, Japanese, Indians, Russians and Egyptians worked on the feet to promote good health. India and China used a form of treatment by means of pressure points over 5,000 years ago. In the 1930's Eunice D. Ingham divided the feet into zones corresponding to areas within the body.
What is involved in a Reflexology treatment?
A consultation is required at your first treatment; this ensures Reflexology is right for you. The recipient lies on a couch or in a reclining chair. As it's just the feet that are worked on, you remain fully clothed at all times, apart from removing your socks and shoes. The therapist applies pressure to the feet using specific thumb, finger and hand techniques. A Reflexology session lasts approximately 1 hour and treats the whole person rather than specific symptoms.
What are the benefits of Reflexology?
Reflexology can help many aliments including the sample list below:
Reflexology reduces stress, tension, anxiety and relaxes the whole person
Removes congestion in energy pathways and allows the energy to flow more freely, thus helping to bring about homeostasis.
Improves blood and lymph circulation
Helps normalise organ and gland function
Stimulates the body to throw off toxic matter
Revitalizes the body energy
It is preventative health care
Stimulates creativity and productivity
Improves mental alertness and attention span
A general sense of health and well-being
A Feeling of deep relaxation
Improves mood and sleep
May benefit asthma stuffers, depression, digestive disorders, IBS, migraines and many other aliments.
Fertility Reflexology
Fertility reflexology is a very relaxing treatment which uses the non-invasive techniques of reflexology to help balance and prepare your body holistically for pregnancy. When the body is balanced, the natural flow for fertility processes may begin. Fertility reflexology can be carried out on both men and women.
There are many reasons for infertility, but 'unexplained infertility' is in the increase. Some reasons may include stress, over worked, dietary habits, being over/under weight and emotional/psychological reasons.
A detailed history of the couple is taken including any tests and investigations which have been carried out (if any). This enables a better understanding of what areas to work on in more depth during the treatment.
For more information on fertility reflexology visit: Reproflexology
Maternity Reflexology
Maternity reflexology is used to balance and harmonise you and your body. It supports the natural development of pregnancy and allows you to be in the best possible shape for labour. It helps to relax and reduce fear and anxiety and balance hormonal changes which occur throughout pregnancy. A lymphatic drainage technique can be used to help with swelling which can occur. Receiving reflexology during pregnancy may help minor aliments including back pain, hip girdle pain, constipation, leg cramps, insomnia etc.
We are fully trained as maternity reflexologists, we can work on pregnant women from the first trimester on.
Price: For a 1 hour treatment of General Reflexology £45.00
For a 1 hour treatment of Fertility Reflexology £45.00 (see our Fertility Reflexology page for more information)
For a 1 hour treatment of Maternity Reflexology £45.00
For a 1 hour treatment of Lymph Drainage Reflexology £45.00 (see our RLD page for more information)
Note: Reflexology is not a substitute for medical treatment nor is it a diagnostic system. Always consult a GP or other health professional for medical attention and advice.
Our Location

27 Newtown Road,
Cloughogue,
Newry,
Co. Down
BT35 8NN
N. Ireland
Testimonials
"I've had Reflexology with Anne-Marie before. Thought I'd try Reiki and so I got a combo treatment of both. It was amazing, another level of relaxation. Plus they are a great way to try other treatm..."
Sitemap