Kinetic Chain Release (KCR) Training
Kinetic Chain Release (Kcr) Level 1 Training (2 Days)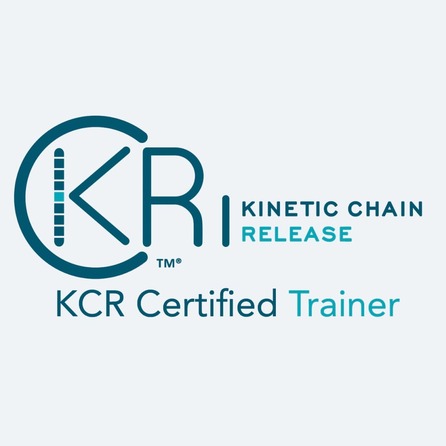 Would you like to train as a KCR practitioner?
Anne-Marie will teach you the complete, twenty three step Kinetic Chain Release (KCR) protocol in a classroom setting with hands-on experience over two days.
This training is for people seeking new careers or wishing to extend their professional skillset. KCR is ideal in providing a powerful, scientifically proven highly sought-after Protocol that works.
What is Kinetic Chain Release?
Kinetic Chain Release (KCR) is a simple yet extremely effective system of mobilizations and stretches, developed by Scottish Physiotherapist Hugh Gilbert, that brings the physical body back into balance quickly and easily.
This simple procedure is revolutionising physical rehabilitation globally, often achieving complete and lasting results in one treatment in many people where all other forms of intervention had proven unsuccessful.
What are the benefits of KCR?
KCR
supports the body in returning to physical balance quickly and easily. A
KCR treatment frequently providing a high degree of relief and even instant resolution in many cases from the pain and discomfort caused by conditions such as:
Chronic Back Pain, Fibromyalgia, Carpal Tunnel Syndrome;

Chronic Fatigue Syndrome, Irritable Bowel Syndrome, Migraine Headaches;

Scoliosis, Teeth Clenching/grinding, Snoring/Sleep Apnoea, Bloating;

Tennis (golfer's) Elbow, Behavioural Disorders in Children, Weak (frequently sprained) Ankles;

Chronic Knee Problems, Breathing difficulty, Chronic neck pain, Plantar Fasciitis, Chronic Stress;

Menstrual Pain, Tired Shoulders, recurrent hamstring issues, recurrent groin strain, Tight Calves;

Insomnia, Wrist pain and weakness, Post Traumatic Stress Disorder (PTSD) and more.
Our flagship, gold standard foundation course is perfect for a range of bodywork professionals seeking to increase their abilities, effectiveness and competitiveness.
Course Information
Dates:
Saturday 3rd and Sunday 4th February 2024 (4 places remaining)
Additional dates to follow
Hours:
09:00 – 17:00 (2 days)
Class sizes are limited to six students in order to provide a comfortable learning environment with plenty of personal attention from professional instructors and teaching assistants. We recommend early registration to avoid disappointment.
Doors open at 8:30 for sign-in. Class time runs from 9:00 am to 5:00 pm both days, with a one-hour lunch break from 12:30 to 1:30. We aim to begin and end promptly for those with travel arrangement requirements.
Location - Newry:
Airmid Therapies, 27 Newtown Road, Cloughogue, Newry, Co. Down, BT35 8NN N. Ireland
Anne-Marie McQuaid (MFHT AOR ARR CNHC IFPA)
An experienced
therapist, running her own busy complementary therapy business for over 12 years.
This course is taught on behalf of Kinetic Chain Release Academy, Scotland -
https://www.kcracademy.com/
Our Location

27 Newtown Road,
Cloughogue,
Newry,
Co. Down
BT35 8NN
N. Ireland
Testimonials
"I've had Reflexology with Anne-Marie before. Thought I'd try Reiki and so I got a combo treatment of both. It was amazing, another level of relaxation. Plus they are a great way to try other treatm..."
Sitemap