Hopi Ear Candling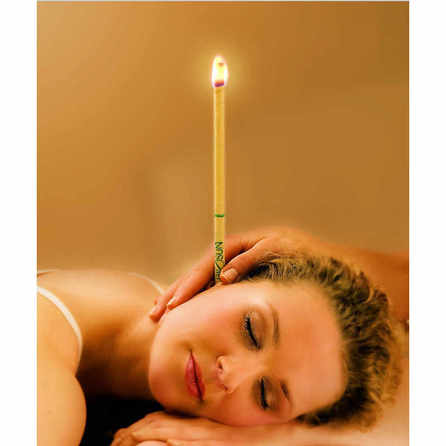 Hopi Ear Candling is a soothing pleasant non-invasive treatment of the ears. Special hollow candles that are made from natural ingredients such as beeswax, honey and essential oils are gently placed into the auditory canal of the ear.
HOPI EAR CANDLING
Ear Candling has been used for many years in the treatment of common ear, nose and throat conditions. Originating from the Hopi Indians of North America it has many practical uses in today's world.
What is involved in a Hopi Ear Treatment?
The candle is then light which creates a gentle suction action. The movement of the flame causes a vibration of air in the candle creating a massage like effect on the ear drum. While the candle burns down it creates a pleasant feeling of warmth and balance in the ear, forehead and sinuses.
What are the benefits of Hopi Ear Candling treatments?
It's soothing effect can assist in the relief of symptoms for conditions such as Tinnitus, Ringing, Compacted ear wax, Sore throat, Asthma and Hay fever. In addition conditions such as:
Rhinitis

Tinnitus

Sinusitis

Allergies

Glue Ear

Swimmers Ear

Earache

Ear related headaches

Prevention of infections

Colds

Anxiety

Depression

Nervous tension

Stress

Irritability

Slow lymphatic circulation

Relieving pressure after flying/deep sea diving

Improving balance and Equilibrium including Vertigo

Relief from dental procedures removing toxins from the gums and jaw region

Psychological Benefits

Clarity of thought

Relaxation

Assists concentration (pre/post exams)
Price
1 hour treatment including facial drainage and relaxing head massage £50.00
Note
Hopi Ear Candling is not a substitute for medical treatment nor is it a diagnostic system. Always consult a GP or other health professional for medical attention and advice.
Our Location

27 Newtown Road,
Cloughogue,
Newry,
Co. Down
BT35 8NN
N. Ireland
Testimonials
"I've had Reflexology with Anne-Marie before. Thought I'd try Reiki and so I got a combo treatment of both. It was amazing, another level of relaxation. Plus they are a great way to try other treatm..."
Sitemap