Indian Head Massage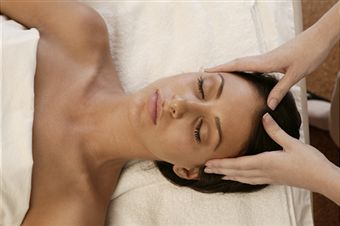 Indian Head Massage (IHM) is a massage treatment that works specifically on the areas surrounding the head, scalp and face, neck and extending to the shoulders, upper back and arms.
INDIAN HEAD MASSAGE
Indian Head Massage as we know it today is a treatment based on an old Ayurveda technique. It has been used in Asia for over 5,000 years. IHM, as practised in Europe incorporates modern western techniques. Today, in India 85% of the population lives in villages where Indian Head Massage is still a tradition.
What is involved in an Indian Head Massage treatment?
A consultation is required at your first treatment; this ensures Indian Head Massage is right for you. The recipient sits on a low chair and leans on a couch. Typically, an Indian Head Massage lasts approximately 1 hour and includes the head, face, neck, upper back and arms. Every treatment is tailored to the recipient's needs and areas of the body can be omitted. During the treatment towels are used to ensure your modesty. Aromatherapy oils are used to help nourish the skin and allow a smooth continuous flowing movement.
What are the benefits of Indian Head Massage?
Indian Head Massage can help many aliments and has a number of benefits, including the sample list below:
Reduced stress
Improved hair condition
Increased energy levels
Improved circulation
More efficient removal of impurities and toxins
Stimulation and improvement of circulatory and lymphatic systems
Price: 1 Hour Indian Head Massage including Facial Massage £50.00
Note: Indian Head Massage is not a substitute for medical treatment nor is it a diagnostic system. Always consult a GP or other health professional for medical attention and advice.
Our Location

27 Newtown Road,
Cloughogue,
Newry,
Co. Down
BT35 8NN
N. Ireland
Testimonials
"I've had Reflexology with Anne-Marie before. Thought I'd try Reiki and so I got a combo treatment of both. It was amazing, another level of relaxation. Plus they are a great way to try other treatm..."
Sitemap