Holistic Organic Facial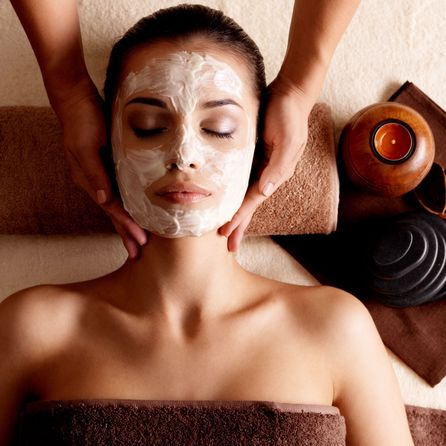 This is the ultimate relaxing treatment and luxury for your face. We use only clean, non-toxic, organic skincare products to perform an all round skin care routine.
This is the ultimate relaxing treatment and luxury for your face. We use only clean, non-toxic, organic skincare products to perform an all round skin care routine including a hot towel double cleanse, gentle exfoliator with a facial polish, a soothing mask, Hyaluronic Acid & Multi Vitamin face serum, an eye cream and a moisturiser, all to suit your skin type. A face, neck, head and arm massage is also given to really allow you to fall into deep relaxation.
Each product is packed with only the finest organic base oils, butter, floral waters, botanical extracts and essential oils. They are also full of active ingredients such as Hyaluronic acid, Coenzyme Q10, Alpha Hydroxy Acids and Vitamins that will make such an impact on your skin and give you the results you are looking for. We use award winning Blumain Organic Skincare range which is packed with functional, beneficial ingredients with no fillers, thickeners or artificial scents, created by a beauty therapist in Co. Cork.
Benefits include:
Increased production of collagen
Cleanses, softens, nourishes and protects the skin
Helps balance sebum production
Brighten and revitalise dull skin
Soothes and calms the skin, removes dead skin
Skin is lifted, hydrated and moisturised
Skin is plumped, reducing fine lines and wrinkles
Promotes skin cell regeneration and fights free radical damage
Helps fight the signs of aging
Helps sooth irritated skin and helps reduce inflammation
Improves circulation to face and head
Has lymphatic drainage affects
Relieves muscle tension
Helps relief of sinusitis and congestion
Leaves skin rejuvenated, glowing and radiant
Aids total relaxation and calms the body and mind
Relieves stress
What is involved in a Holistic Facial treatment?
A consultation is required before treatment starts (this is usually emailed to you before your appointment); this ensures a holistic facial is right for you. The recipient lies on a couch or in a reclining chair. Your face, neck, head and your décolletage (low-cut neckline), arms and shoulders will be treated so you can wear a string top or remove upper body clothing (you'll be covered with a blanket)
We ask that, if possible, you have little to no make-up on and remove all jewellery before your treatment.
Products used during your Holistic Facial
The treatment starts with a hot towel cleanse to the neck and face. Followed by 2 cleanses using two different cleanser.
We first use a Geranium & Orange oil cleanser followed by a Hydrating Orange Blossom cleansing milk, both have different benefits to your skin.
We tone with a Soothing Rose Toner (and or an AHA Tonic, depending on your skin). We use a gentle Geranium & Bamboo Facial Polish to exfoliate the neck and face areas.
We also use a Radiant Rose Mask, followed by a Hyaluronic Acid & Multi Vitamin Face Serum. To finish we use an Aloe & Cucumber Eye Cream and a moisturiser suited to your skin. We can choose from Blackcurrant & Geranium Age-Defy moisturiser, Soothing Lavender & Chamomile or Rosehip Regenerative Night Cream.
During the Facial, your therapist will apply massage your upper body including a hand and arm massage, a chest, neck, lymph drainage face and scalp massage. A Holistic Facial session lasts approximately 1 hour and treats the whole person rather than specific symptoms. Due to the close proximity of the face to the brain, facials can feel deeply relaxing and results are almost instance.
Price
Holistic Organic Facial (including shoulder and neck massage and hot towels) 1 hour treatment £55
Note: A Holistic Facial is not a substitute for medical treatment nor is it a diagnostic system. Always consult a GP or other health professional for medical attention and advice.
Our Location

27 Newtown Road,
Cloughogue,
Newry,
Co. Down
BT35 8NN
N. Ireland
Testimonials
"I've had Reflexology with Anne-Marie before. Thought I'd try Reiki and so I got a combo treatment of both. It was amazing, another level of relaxation. Plus they are a great way to try other treatm..."
Sitemap