Swedish Body Massage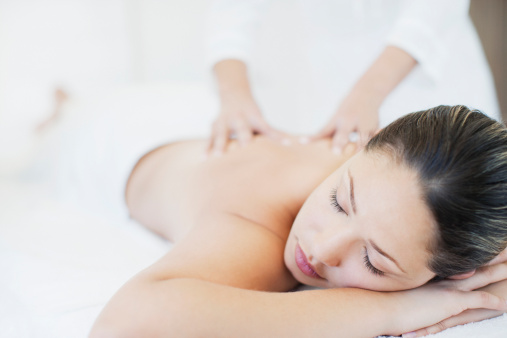 Massage is a hands-on treatment in which the therapist manipulates muscles and other soft tissues of the body to improve health and well-being. It helps relieve muscle tension, reduce stress and bring about a feeling of calmness.
SWEDISH BODY MASSAGE
For centuries, human touch has been shown to be emotionally and physically healing. The use of massage for healing purposes dates back over 3,000 years in Chinese medical literatures. Massage is the pressure and movement to the soft tissue of the skin, muscles, tendons and ligaments. It encourages the flow of blood and lymph, alleviating tension, stimulating nerves and loosening or stretching muscles and connective tissues to keep them flexible. Massage can concern the entire body, but it has a major influence in the activity of the musculoskeletal, circulatory, lymphatic and nervous systems.
What is involved in a massage treatment?
A consultation is required at your first treatment; this ensures massage is right for you. Typically, a full body massage lasts an hour and includes, back, legs, feet, stomach, arms, hands, neck, shoulders, face and head. Every treatment is tailored to the recipient's needs and areas of the body can be omitted. During the treatment towels are used to ensure your modesty. Oils or creams can be used to help nourish the skin and allow a smooth continuous flowing movement.
What are the benefits of massage?
Massage can help many aliments including the sample list below:
Especially good for promoting deep relaxation and a feeling of well-being
Assists in alleviating fatigue both physical and mental
Helps to improve condition, colour and tone of the skin - due to increases in blood supply
Helps disperse toxins from the body
Boosts the immune system
Improves functions of the kidneys through detoxification
Improves digestion
Eases joints and improves such conditions as arthritis and rheumatic disorders therefore improving mobility
Helps the healing of fractures and sprains speeding recovery
Produces very good effects on the circulatory system and may help lower blood pressure.
Releases tension in tired, stiff and aching muscles
Helps relax and tone weakened muscles
Reduces overall stress and has a soothing and relaxing effect both psychologically and physically
Gives a feeling of calmness and helps improve sleep.
It is invigorating and also stimulating, increasing energy
Price: Swedish Massage
1 hour full or half body massage, including face and head £50.00
Note: Massage is not a substitute for medical treatment nor is it a diagnostic system. Always consult a GP or other health professional for medical attention and advice.
Our Location

27 Newtown Road,
Cloughogue,
Newry,
Co. Down
BT35 8NN
N. Ireland
Testimonials
"I've had Reflexology with Anne-Marie before. Thought I'd try Reiki and so I got a combo treatment of both. It was amazing, another level of relaxation. Plus they are a great way to try other treatm..."
Sitemap