Warm Bamboo Massage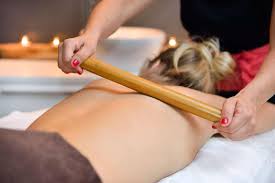 Bamboo Massage is a unique massage using heated bamboo rods to knead and roll out knots and relax tense muscles.

Bamboo Massage is a unique massage using heated bamboo rods to knead and roll out knots and relax tense muscles, it combines the traditional benefits of massage alongside the comforting qualities of heat. Stimulation of the tissue by the bamboo sticks is believed to relieve the sluggish state commonly found, by dissipating the heat that results from an accumulation of toxins and poor circulation, much the same as what would occur through deep-tissue work, trigger-point activation, or various acupressure techniques.
What is involved in a Warm Bamboo Massage treatment?
A consultation is required before/at your first treatment; this ensures warm bamboo massage is right for you. A warm bamboo massage can be concentrated on specific painful areas and can be a deep massage or a lighter full body massage can be carried out. The massage therapist uses the addition of different sized smooth warm bamboo sticks to massage during the warm bamboo massage.
Every treatment is tailored to the recipient's needs and towels are used to ensure your modesty. Oils are used to help nourish the skin and allow a smooth continuous flowing movement.
What are the benefits of warm bamboo massage?
Warm bamboo massage can be of specific help to:
Athletes or occasional sports enthusiast
Individuals with chronic joint or muscle injuries
Individuals that perform repetitive work that cause considerable strain on muscles and joints
Individuals who suffer from stress
Warm bamboo massage can help many aliments and usually focuses on a specific problem such as:
Chronic pain
Limited mobility
Recovery from injuries (e.g. whiplash, falls, sports injury)
Repetitive strain injury, such as carpal tunnel syndrome
Postural problems
Muscle tension or spasm
Relieves muscular tension
Increase joint and muscle flexibility
Improve sports performance and endurance
Increase energy and vitality
Reduces stress by delivering an incredible sensation of relaxation
Improve overall health and well-being
Renew your body and calm your mind
Stimulates blood circulation
Aids in Lymphatic drainage
Price: For a 1 hour treatment of warm bamboo massage £50.00
For an hour and a half treatment of warm bamboo massage £75.00
Note: Warm Bamboo massage is not a substitute for medical treatment nor is it a diagnostic system. Always consult a GP or other health professional for medical attention and advice.
Our Location

27 Newtown Road,
Cloughogue,
Newry,
Co. Down
BT35 8NN
N. Ireland
Testimonials
"I've had Reflexology with Anne-Marie before. Thought I'd try Reiki and so I got a combo treatment of both. It was amazing, another level of relaxation. Plus they are a great way to try other treatm..."
Sitemap