Natural Lift Facial Massage
Natural Lift Facial Massage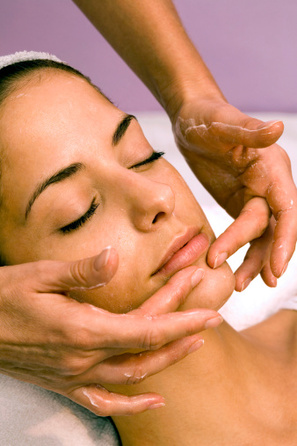 The Natural Lift Facial Massage involves a sequence of massage techniques which act as a natural facelift with no need of surgery. It will help you look and feel younger. Many people suffer facial tension which builds up in the facial muscles causing puffiness, lines and wrinkles.
Natural Lift Facial Massage
Natural Lift Facial Massage incorporates a unique blend of highly effective techniques from both Japanese Face Massage & Indian Face Massage – also known as Facial Rejuvenation or Natural Facelift. It also incorporates complementary techniques from acupressure and Facial Reflexology.
These techniques can:
Increase blood circulation
Stimulate the nervous system
Improve lymphatic flow and removes toxins
Strengthen and tone muscles, helping prevent sagging skin and fine lines
Repair and balance the condition of the skin, minimising the ageing process
Balance energy, improving the health and appearance of the facial tissue.
Release stresses and traumas locked deeply into the muscles and energy of the face, head and neck.
This treatment is specifically designed using a combination of techniques to improve the complexion, remove toxins from the face, prevent and reduce facial wrinkles and age spots whilst balancing the life force energy holistically, helping to improve overall health. This facial massage produces the equivalent of an acupuncture facelift without the insertion of needles. It has no side effects and is a very effective method of facial care.
What is involved in a Natural Lift Facial Massage treatment?
A consultation is required at your first treatment; this ensures a Natural Lift Massage is right for you. The recipient lies on a couch. Typically, an a Natural Lift Facial Massage lasts approximately 45 minutes and includes the head, face, neck and shoulders. Every treatment is tailored to the recipient's needs and areas can be omitted or worked on longer. During the treatment towels are used to ensure your modesty. Aromatherapy oils or creams are be used to help nourish the skin and allow a smooth continuous flowing movement.
What are the benefits of Natural Lift Facial Massage?
Natural Lift Facial Massage can help many aliments including the sample list below:
Improve skin suppleness
Reduce and release any muscle tension in the face and jaw
Reduce expression lines and wrinkles
Relieve stress symptoms such as insomnia, headaches and eye strain
Tones and helps to tighten the skin and underlying muscle
Stimulate rejuvenation and cellular activity
Aid lymphatic circulation, increasing the elimination of toxins and the supply of nutrients to the cells.
Aid the removal of dead skin cells
Maintain a fresh, youthful appearance
Promote blood circulation
Enhance mental and physical relaxation
Price: For a 1 hour treatment of Natural Lift Facial Massage £50.00
Note: Natural Lift Facial Massage is not a substitute for medical treatment nor is it a diagnostic system. Always consult a GP or other health professional for medical attention and advice.
Our Location

27 Newtown Road,
Cloughogue,
Newry,
Co. Down
BT35 8NN
N. Ireland
Testimonials
"I've had Reflexology with Anne-Marie before. Thought I'd try Reiki and so I got a combo treatment of both. It was amazing, another level of relaxation. Plus they are a great way to try other treatm..."
Sitemap