Airmid Therapies
We offer a range of complementary therapies in Newry and surrounding areas with a professional and individualized approach for your well-being and comfort. Treatments offered include: Reflexology, Aromatherapy, Reiki, Massage, Indian Head Massage, Deep Tissue Massage, Seichim, Natural Facial Lift Massage, Pregnancy Massage, Fertility and Maternity Reflexology, Kinetic Chain Release (KCR) and hot stone therapy.
Whether you are experiencing pain, illness or just want to pamper yourself, Airmid Therapies is here for you. For a professional, quality and relaxed treatment for you, a loved one or a friend, contact us today. Gift vouchers are available contact us to order.
Blog Airmid Therapies blog is all about health and well-being. To read more, visit our blog here.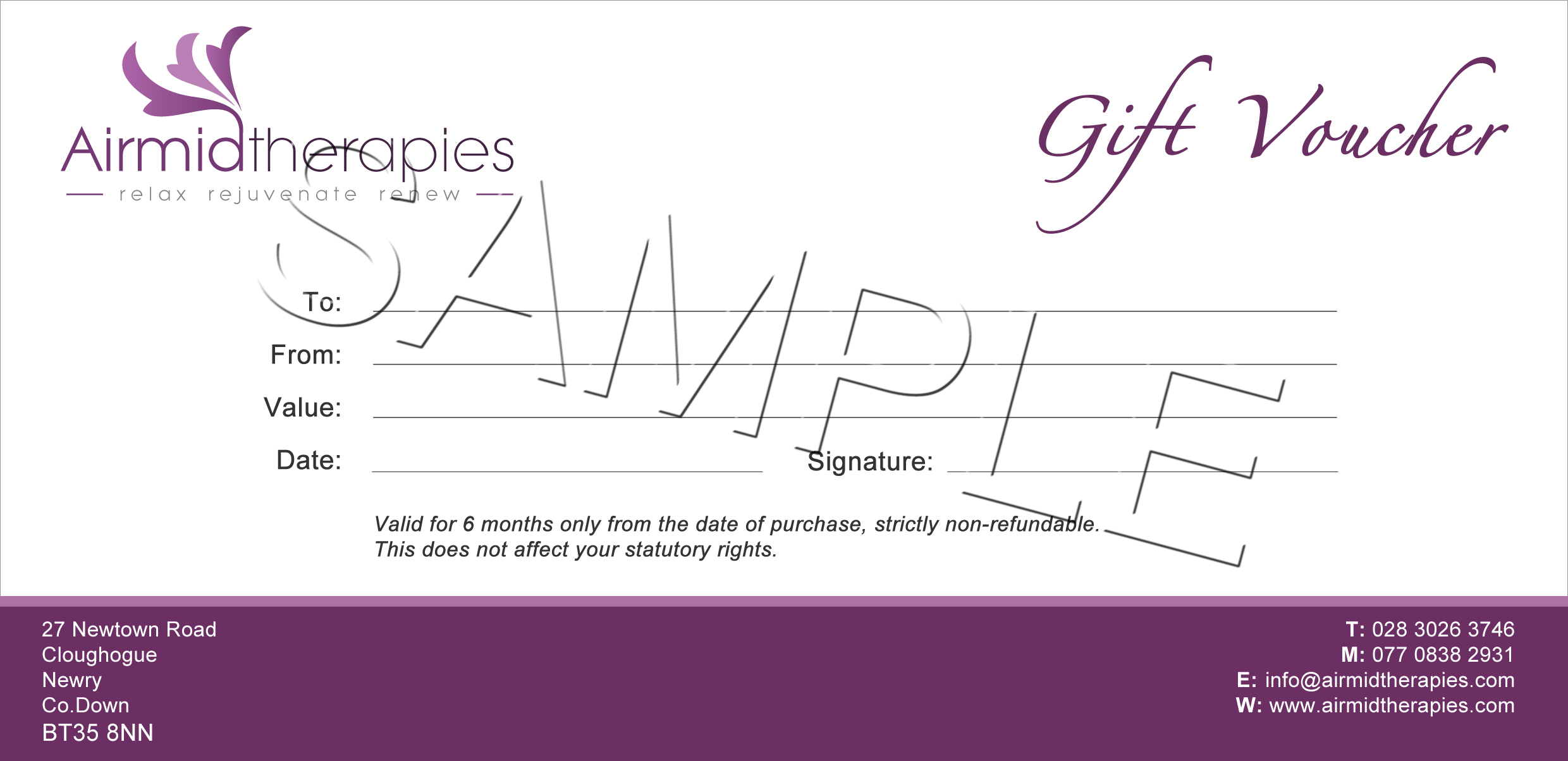 AIRMID THERAPIES TREATMENTS
As with all our treatments, a full consultation will be completed in the strictest of confidence to ensure that the treatment is suitable for you.
New Treatment - Kinetic Chain Release (KCR)
KCR is a series of gentle stretches, carefully crafted and developed by Scottish Physiotherapist Hugh Gilbert, to quickly smoothly and often sensationally bring about postural changes that will correct the body's imbalances in young and old alike and eliminate many physical issues in the process. For more information on this treatment visit the KCR treatment page.
more details
Airmid Escentuals Aromatherapy Products
We are now making Aromatherapy products! Hand made aromatherapy products including: luxury soy wax candles and melts/tarts (all enriched with essential oils). Visit our online shop: Airmid Escentuals Shop
more details
Testimonials
"I've had Reflexology with Anne-Marie before. Thought I'd try Reiki and so I got a combo treatment of both. It was amazing, another level of relaxation. Plus they are a great way to try other treatm..."
read more
Emma - Newry
Testimonials
"I've had Reflexology with Anne-Marie before. Thought I'd try Reiki and so I got a combo treatment of both. It was amazing, another level of relaxation. Plus they are a great way to try other treatments!"
read less
Emma - Newry