Crystal Therapy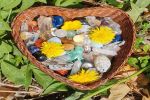 Crystal energy therapy is a natural, deeply relaxing, healing treatment.
Crystal Therapy
Crystal healing therapy taps into the energetic power and vibration of beautiful crystals to encourage balance and clearing. Different crystals hold vibrations and electronic charges, indeed many of our electronic and tech devices use the power of crystals to function. Crystals absorb, focus, direct and diffuse our energy fields to enable our body to find it's natural energetic rhythm once again. Crystal healing therapy also complements Reiki beautifully as a combo treatment.
What is involved in a Reiki treatment?
A consultation is required at your first treatment; this ensures Crystal Therapy is right for you. The recipient lies on a couch. They remain fully clothed at all times. Each treatment is adapted to the client's needs and may include crystal placement on or around the body, chakra balancing, visualisation, breathing and meditation.
A Crystal Therapy session lasts approximately 1 hour and treats the whole person rather than specific symptoms. All crystals are cleansed and energised before your treatment.
What are the benefits of Crystal Therapy?
Crystal Therapy may help many aliments including the sample list below:
Enhances the body's natural ability to heal itself.
Releases blocked energy, promotes relaxation and reduces stress.
Aids with anxiety, depression, insomnia, digestive issues and more.
Helps to cleanse the body of toxins both energetic and physical.
Increases vitality, stamina and strengths the immune system.
Price: For a 1 hour treatment of Crystal Therapy £50.00
Note: Crystal Therapy is not a substitute for medical treatment nor is it a diagnostic system. Always consult a GP or other health care professional.
Our Location

27 Newtown Road,
Cloughogue,
Newry,
Co. Down
BT35 8NN
N. Ireland
Testimonials
"I've had Reflexology with Anne-Marie before. Thought I'd try Reiki and so I got a combo treatment of both. It was amazing, another level of relaxation. Plus they are a great way to try other treatm..."
Sitemap